Finished updating the latest version of my Date/Time picker.  You can read more about this in my Experts Exchange article.
You can use it as a date picker, time picker, or both with very little code.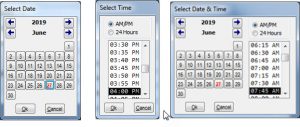 I use it in my billing application, allowing me to default the start and end times of my work segments value to the beginning of the current 15 minute time interval.  I also use it in one of my clients time-card applications, allowing them to set it to 30 minute intervals, and only display start times between 07:30 and 09:00 and end times between 16:00 and 17:30 (overtime in separate controls).
You can download it here.